Mechanical Engineering
Department Details
Facilities
Faculties

Academic Calendar

Syllabus

Events

TimeTable

Industry Advisory Board
Undergraduate / Postgraduate Programmes
| | |
| --- | --- |
| Programme | Mechanical Engineering |
| Year of starting | 2004 |
| Level | UG + PG |
| Intake (UG) | 120+6+30 (Approved Intake+TFW+EWS) |
| Intake (PG) | 18+4(Approved Intake+EWS) |
| Contact Email | hodmechanical@gecv.ac.in |
Tour to Mechanical Department
Vision
To groom technically oriented and ethical mechanical engineers for the betterment of the society.
Mission
Imparting high quality technical education to the students and persuade them to solve real life engineering problems innovatively.
Accomplish excellence in curricular and co-curricular activities with a committed faculty through teaching which creates technically competent, ethical and dedicated mechanical engineers to serve society with pride.
Mould aspiring Mechanical Engineers to become at par with latest technology.
Program Educational Objectives (PEOs)
Exhibit demonstrable attributes in lifelong learning to contribute to the societal needs.
Graduate will compete to pursue successful professional career in Mechanical Engineering and allied disciplines.
Graduates will pursue higher education for professional development and/or engage in continuous up gradation of their professional skills.
Program Specfic Outcome (PSOs)
An ability to perform technical research and innovation to serve the needs of society.
The ability to make use of acquired technical knowledge for requirements of the organization with which they work after graduation.
An ability to effectively use latest CAD, CAM and Analysis software in the field of design and manufacturing.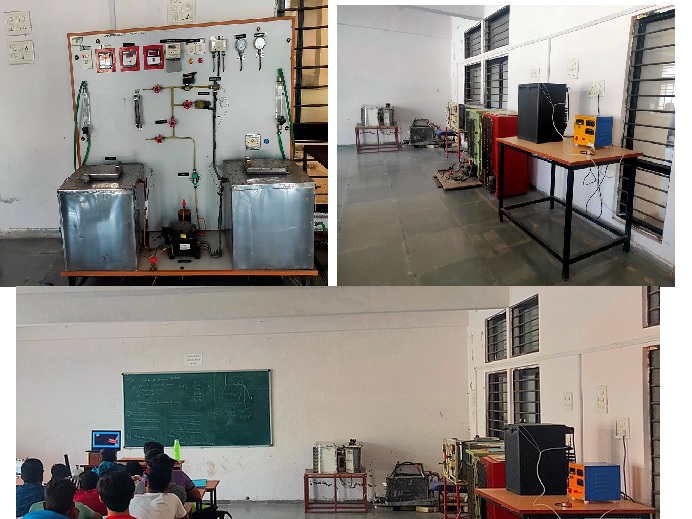 Refrigeration and Air Conditioning
Refrigeration and Air-conditioning laboratory has equipment to demonstrate various applications of refrigeration and air conditioning and to get familiar with the same, to understand construction and working of refrigeration and air conditioning applications like refrigerator, air conditioner, air cooler, evaporative cooler, etc
Machining Process Lab
Machining processes lab used for learning various methods of manufacturing ranging from manual methods like conventional machine to CNC machine. Machining process lab equiped with production lathe machines tools, mill machine tool,shaper machine tools,drilling machine, grinding machine etc.
Mechanical Measurement and Metrology
Mechanical Measurement and Metrology Lab equipped with number of measuring instruments with different range used for various measurement also instrumentation laboratory is equipped with instruments used for physical measurement as well as calibration.
Fluid Mechanics & Fluid Power Engineering
Fluid mechanics helps us understand the behaviour of fluid under various forces and atmospheric conditions, which helps to select the proper fluid for various applications. Fluid power engineering imparts working of prime movers and power production. Fluid mechanics and Fluid power engineering lab equip with standard fluid property measurement equipment like, Hydraulic Bench Setup and various fluid power machines like Francis Turbine Test Rig, Axial Flow Pump Test Rig, Centrifugal Pump Test Rig,

Heat Transfer
Heat transfer plays a key role in material selection, machinery efficiency and reaction kinetics. The Heat Transfer laboratory provide platform for learning various concepts of heat transfer and measurement of thermal property and various physical quantity measurements in equipment like Emissivity measurement apparatus, apparatus for heat transfer by forced convection, apparatus for heat transfer by natural convection, apparatus for pin fin for natural & forced heat transfer, Stefan- Boltzman ap
Internal Combustion Engine
Energy efficiency of vehicle along with safe global climate became a major engineering and scientific challenge. This subject emphasise on the design of IC engine and operating, impact of various fuels and additives. This laboratory facility of equipments which explain engineering and science behind the I.C. engine. This lab had some special purpose equipment's like "Single Cylinder Four Stroke Diesel Engine Test Rig With Rope Brake Dynamometer", "Experimental Setup For Single Cylinder 4
Automobile Engineering
Automobiles are the most widely used transportation mode worldwide. Safety, Comfort and aesthetics are main concern of any vehicle. The section of engineering focuses on different structural and operational aspects and their impact on vehicles. Automobile engineering laboratory equipped with actual setups of vehicles and working models like "Auto craft electrical equipment board for car layout of car wiring", "Cut section of four-wheel drive with differential and real axle.", "Model of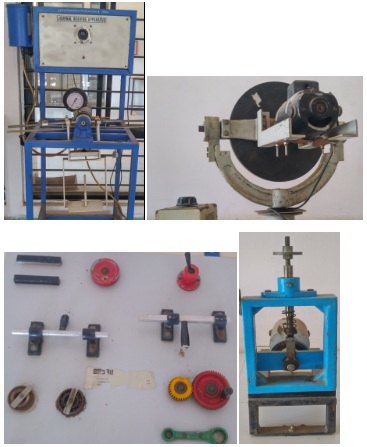 Theory of machines
Theory of machine is one of important area of engineering which encompasses the kinematics and dynamics of mechanism and machines. It also elaborates the effect of force through analysis which is most important as far as mechanical design is concern. This laboratory is equipped with experiment set up like, Universal Governor Apparatus, Cam analysis apparatus, Motorised Gyroscope, Universal Vibration apparatus, Whirling of shaft apparatus, Coriollis component of acceleration apparatus, Screw Jac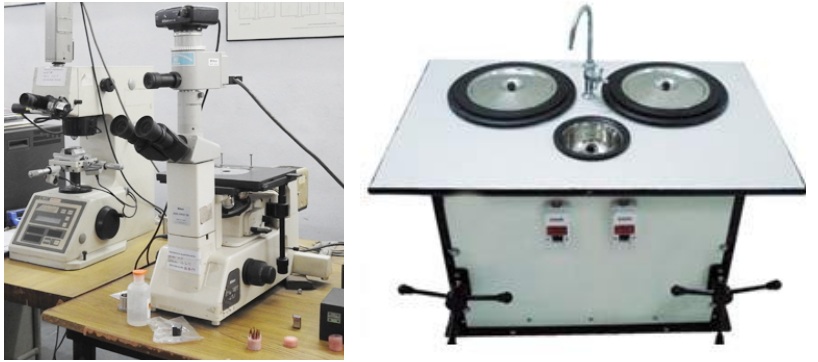 Material Science & Metallurgy
Materials science and Metallurgy is one of the most important domains of engineering which encompasses properties of metals, their behaviour under various circumstance and compatibility for manufacturing. This laboratory is equipped with Monocular Metallurgical Microscope with various test samples. Lab also consist with various important equipment's like Jominy End Quench test setup, Double-disc polishing machine, Liquid penetration test kit and Muffle Furnace to perform various experiment and